Let's Go Electric, Together
Now you can experience the power, performance and additional benefits of driving an all-electric vehicle from Ford.
Ford Electric Vehicles
Ready to Join the EV Revolution? Hop In.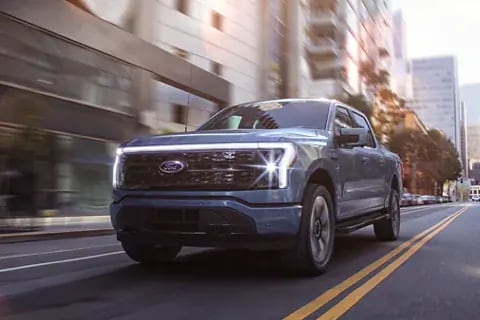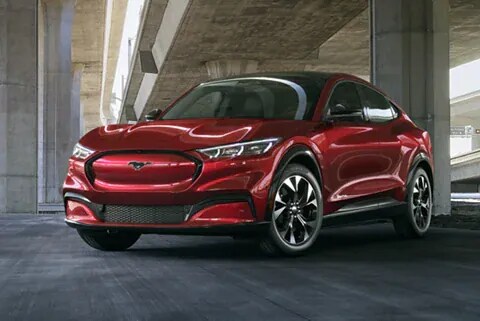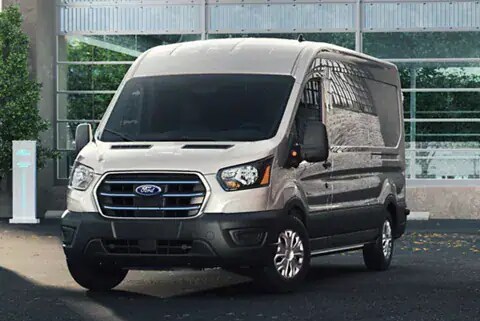 All-Electric Vehicles: Leaving Myths in the Dust
Forget what you thought you knew about electric vehicles. See how future-facing Ford battery electric vehicles zap the myths.
Electric Exhilaration
Think battery electric vehicles and speed don't mix? Prepare for a jaw-drop.
Electric Vehicle vs. the Elements
What happens when an all-electric vehicle meets the extreme conditions of a punishing snow and subzero temp (as low as -40F!) test?
Built Ford Tough & Electric
The Ford F-150 Lightning boasts the Built Ford Tough brawn to tow up to an available 10,000 pounds with its 775 lb.-ft. of electric torque.*
*Torque and towing calculated via peak performance of the electric motors at peak battery power. Your results may vary.
Simple to Own. Electrifying to Drive.
Owning an EV is surprisingly easy. Ford is committed to making it even easier, with all the answers you need.
$7,500 in Potential Federal Tax Credits*
If you are purchasing and currently taking delivery of a Ford electric vehicle (EV) or plug-in hybrid EV (PHEV) you may qualify for as much as $7,500 in federal tax credits.*
Subject to MSRP cap of $80,000 and adjusted gross income caps. See vehicle pages for details. Please consult with your own tax or legal professional to determine eligibility, specific amount of incentives or rebates available. The federal tax credit is a potential future tax savings. The amount of your tax savings will depend on your individual tax circumstances. Incentives and additional rebates are not within Ford's control. This information does not constitute tax or legal advice. Click here for additional information.
Capability Electrified
Learn how the first zero-emissions* F-150 Lightning delivers the performance you expect from the F-150 name.
*Based on EPA tailpipe rating. Visit fueleconomy.gov for more information.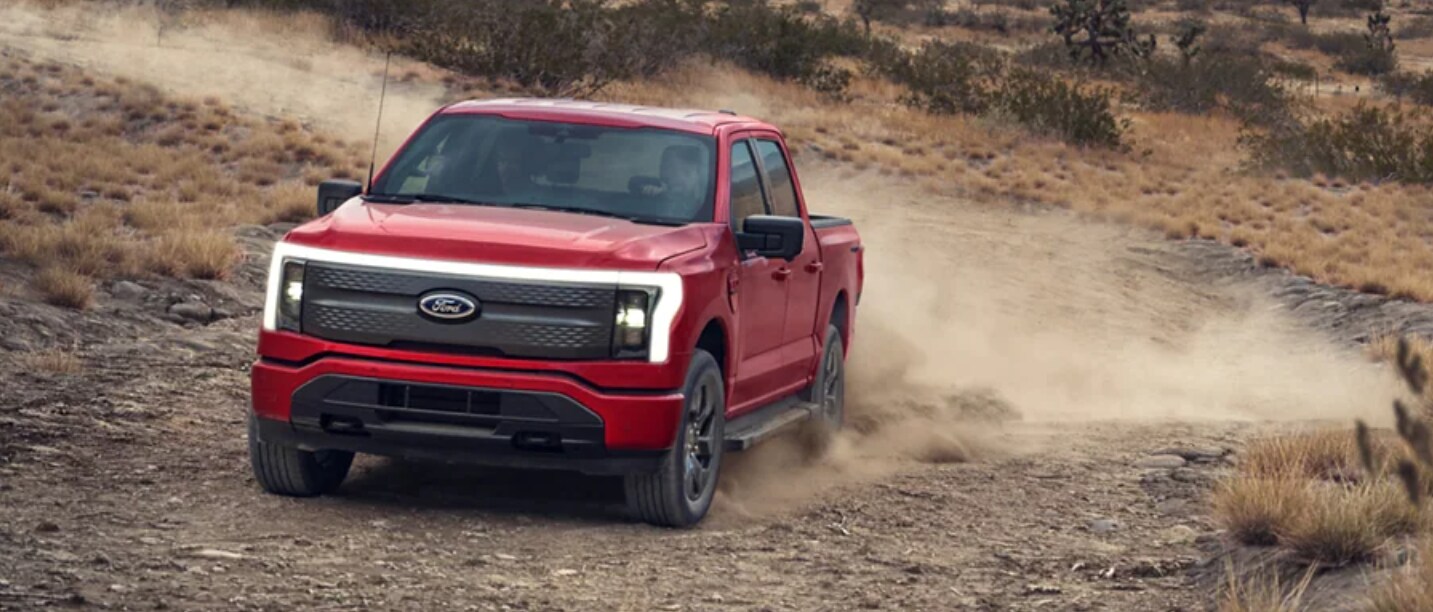 Take Charge of Your Life
Goodbye gas. Hello freedom. The high-performance all-electric Mustang Mach-E® SUV gives you 0-60 thrills, expansive range and zero emissions.*
*Based on EPA tailpipe rating. Visit fueleconomy.gov for more information.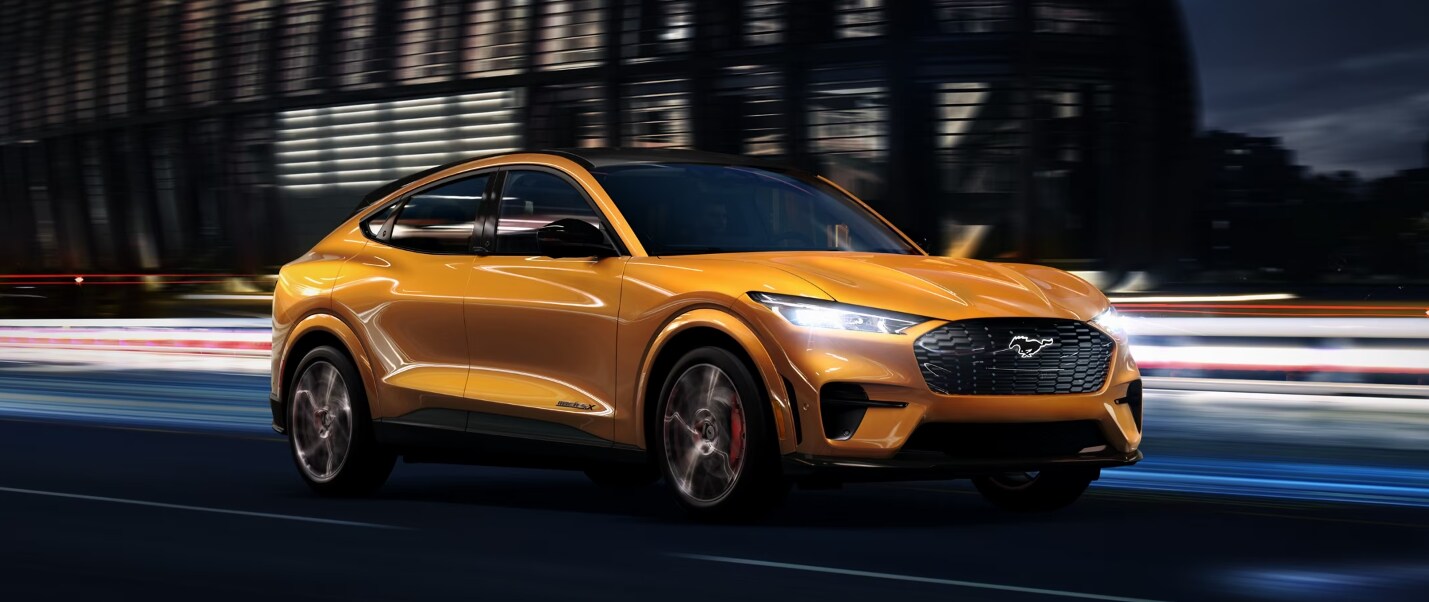 Better for Your Bottom Line
The 2023 E-Transit™ model shares many of the same great attributes that the gas powered Transit does. Minus the gas. It's a zero-tailpipe emissions vehicle *. It also has versatile configurations and potentially reduced operating costs. The E-Transit can go where gas models cannot, including indoors with environments with limited ventilation.
*Visit https://afdc.energy.gov/vehicles/electric_emissions.html for more information.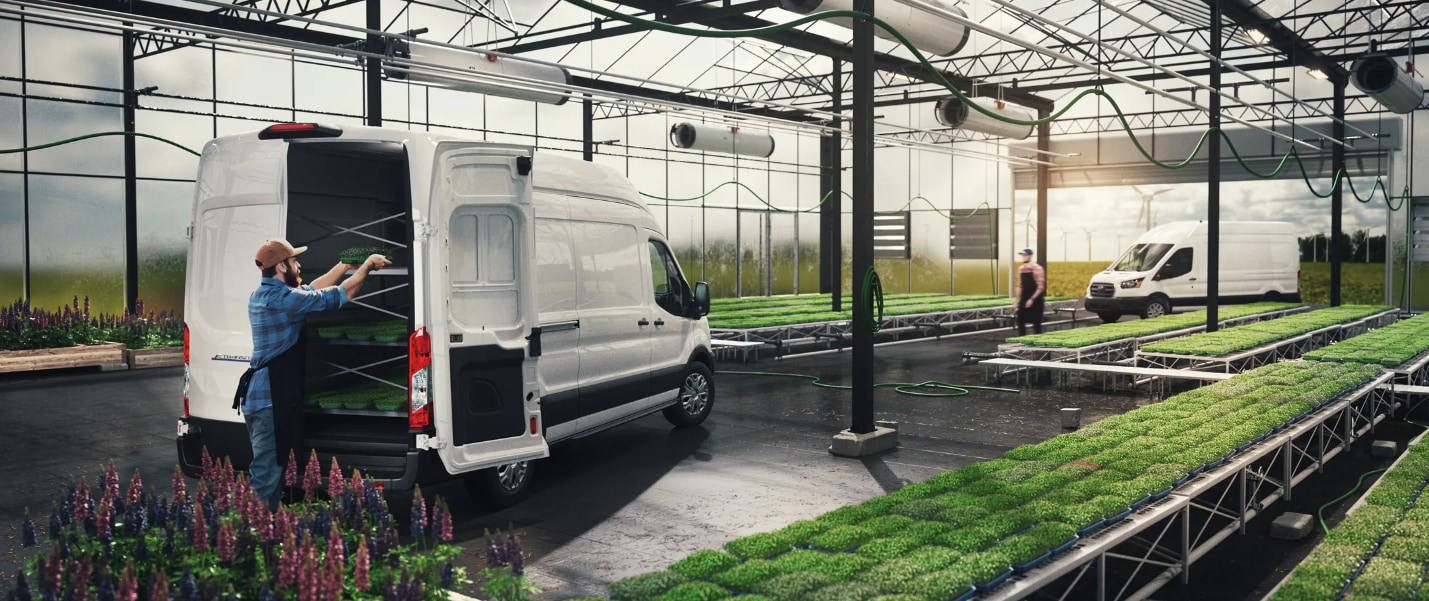 Charging How-Tos
Get to know your all-electric vehicle with these tips for fast and convenient charging.
Charging Basics
There are many ways to charge your all-electric vehicle. Here are a few things you should know before plugging in.
Charging at Home
Charging at home can be as simple as plugging in, but here are some additional tips on how to enjoy a seamless charging experience.
Charging on the Road
Ford makes it easy to charge your all-electric vehicle on the go. Here's a quick overview on how to utilize the Blue Oval™ Charge Network.
How do I Charge my Vehicle at Home?
Charging your vehicle is as simple as charging your phone. You can even charge overnight with the available Ford Mobile Charger on a 120V wall outlet or a 240V wall outlet. To maximize your home charging speed and connected features at home, you can purchase the Ford Connected Charge Station and its on-demand 48 amps of power.
Ford Connected Charge Station
Hardwired 240V/48A
Available as an additional purchase
48 amps of charging power
10.9 hours required to charge from 0%-100%*
28 average miles of range per charging hour*
Bluetooth® and Wi-Fi enabled
Charging insights available on your mobile device
Requires professional installation by a licensed electrician**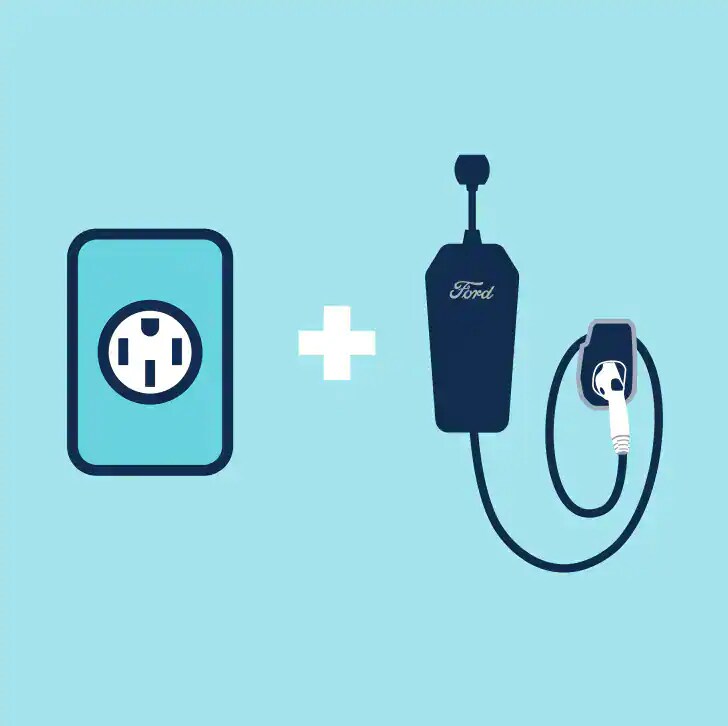 Ford Mobile Charger
Plugged into 240V/32A NEMA 14-50 Wall Outlet
Comes standard with EV models
32 amps of charging power
15 hours required to charge from 0% - 100%*
20 average miles of range per charging hour*
240V outlet requires professional installation by a licensed electrician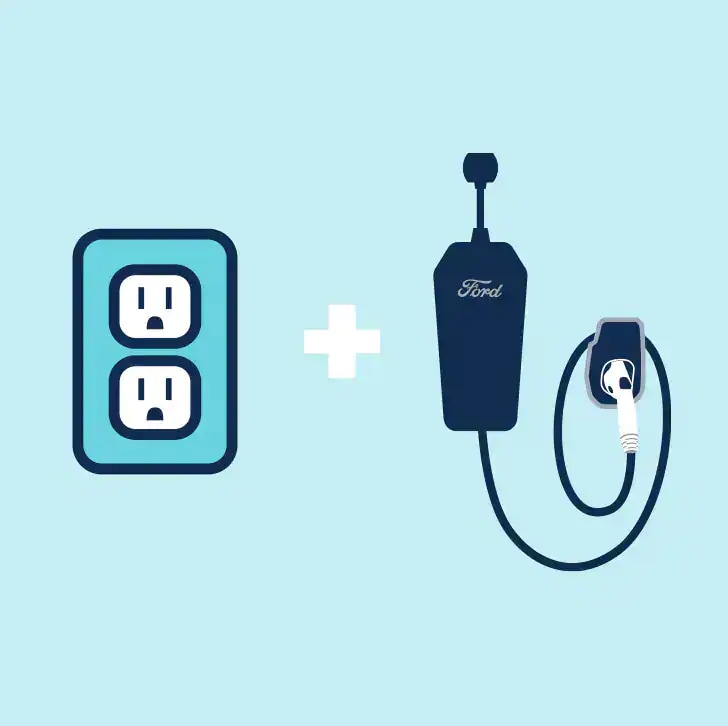 Ford Mobile Charger
Plugged into 120V/12A Wall Outlet
Comes standard with EV models
12 amps of charging power
95 hours required to charge from 0% - 100%*
3 average miles of range per charging hour*
*When equipped with the Mustang Mach-E with extended-range battery and RWD. Range and charge time based on manufacturer computer engineering simulations and EPA-estimated range calculation methodology. The charging rate decreases as battery reaches full capacity. Your results may vary based on peak charging times and battery state of charge. Actual range varies with conditions such as external environment, vehicle use, vehicle maintenance, lithium ion battery age and state of health.
**Ford recommends Qmerit installation.
BlueOval™ Charge Network
The BlueOval™ Charge Network is composed of over 19,500 charging stations with 63K plugs and growing, making public charging locations as common as some pharmacies and popular coffee chains.
On the FordPass®* App or your SYNC®** 4A navigation, you'll be able to see which charging stations are available, the cost to charge (many are free), and even save your favorites. Kicking off a road trip? Find the optimal places to stop for the least amount of downtime with the FordPass App Power My Trip feature.
To get started, all you need to do is activate your access to the BlueOval™ Charge Network at Ford.com/ConnectedServices and use the FordPass App to find and activate chargers.
*The FordPass App, compatible with select smartphone platforms, is available through a free download. Message and data rates may apply.
**Don't drive while distracted. Use voice-operated systems when possible; don't use handheld devices while driving. Some features may be locked out while the vehicle is in gear. Not all features are compatible with all phones.
Benefits of BlueOval™ Charge Network:
Access all of the chargers in the network through a single app, FordPass. No more juggling several apps.
Use FordPass to find chargers, experience pay-as-you-go, and plan a route with charging.
Through Electrify America®, you receive 250 kWhs of complimentary charging and Plug & Charge.  With Plug & Charge technology you can automatically pay for charging by simply plugging into a public charging station, eliminating the need to use smartphones or credit cards.
How can we help?
* Indicates a required field